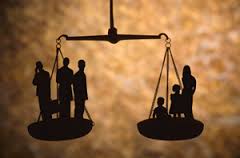 In world of raising a family, Work-Life balance takes on a totally different and new meaning.
As Rosemary Kamau points out It's easy to replace a worker, but it's far harder to replace a mother.
So how do you try to keep the balance between your job (whatever it may be) and raising your family?
But regardless of whether you are a stay-at-home mother, a work-from-home mother or a working out of the home mother you have to recognize that your family is the most important gift you've been given.
In Rosemary's article (which you can read in its entirety here) she talks about the importance of making time for the family. With so many competiting roles a mother can find herself a lost in finding balance.
In Kenya, most mothers work in formal employment or run businesses. Most mothers in the rural areas are farmers and housework is a small part of their work. Very few mothers work professionally as home-makers. This is partly because house help is cheap and easily available. There is also the issue of the high cost of living that forces both spouses to work formally to make ends meet.

In some cases that are increasing, more and more mothers are opting to take on travelling jobs or employment in other counties. These jobs pay more and are prestigious. Some mothers have opted to run businesses where they travel outside the country to buy merchandise to sell in their home country. These options have seen more and more women living for long periods away from their families.

Furthering their education has become a big attraction for mothers who wish to progress professionally. Some mothers have chosen to study for long periods outside their country. While other mothers study and attend classes in the evenings and weekends. Most of these mothers have full time jobs and businesses.

Many families have been adversely affected by mothers taking on too many competing roles of being a wife, mother, professional and student. There is an urgent need to balance work and family. The divorce rate has risen to alarming rates, not to mention the neglect shown children.

Mothers have to make a deliberate effort to create boundaries that prioritize their spiritual life, marriage and children. They need to rely on God's grace and ask for his help in order to cope. It may well mean making hard choices in favour of the family. A mother may decide to quit a well-paying job for a lower-paying one so as to spend more time with the family. A mother may decide not to pursue studies so as to spend more time teaching her children about God and helping them with their homework. A wife may also decide to spend more time with her husband instead of working overtime in the office.
Read Rosemary Kamau's entire article right here.