Being a good parent, a good father, doesn't have to be very complicated.
Sometimes it just takes a little common sense. Things that we take for granted but make a lasting impression on our children.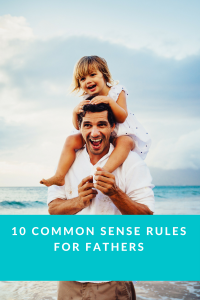 1. Expect a great deal from your kids.
If your kids know that you expect a great deal from them, they will rise to the occasion. Every child wants to please their parent. So if you set low standards your children will achieve low standards.
Everything from saying please and thank-you, to efforts in school or on the playing field;
if expectations are made clear in a loving atmosphere your kids will know that you think a lot of them. When they know this, they will respond with a great deal.
2. Always be willing to be the solution.
When you are convinced that someone else in your family is causing the problem and you are blaming them for it, realize that this problem probably won't get better until you accept that you are making it worse by blaming them.
It may feel good to blame, but it never improves anything. Loving and accepting that person will make a positive difference. If you the problem needs a solution make sure you're the one bringing that solution forward.
3. Know your child's life intimately.
What type of parent would you be if you didn't even know your child's favorite color? Or favorite movie?
Get to know all that you can about your kids.
Know what their favorite toys and colors are, who their best friends are, who their heroes are, etc.
By showing interest, you are showing you love them. By not asking, you show that they are not that important to you.
4. Say No to your kids.
Yes it may seem that saying "No" is such a bad thing, but if your children don't learn to hear and accept the words, "No" there are lessons they will learn the very hard way.
There's an awful lot of stuff out there for children these days…and of course they want to have all of it. Children who get almost everything they want typically don't turn out to be very happy.
Children learn discipline, self-control, and how to delay gratification when they are told no by their parents; especially in this world where even parents are used to "instant" gratification.
It may be a difficult struggle, but saying no and meaning it will help you to have happy, healthy, and cooperative kids. Maybe you should try saying, "No" to yourself as well. You may just a learn a lesson or two.
5. Treat your wife extremely well.
You may be wondering what does your relationship with your wife have to do with parenting. This is where your children learn very important information about relationships between men and women.
Make a great effort not to fight in front of the children. Remember to be kind much more often than trying to be right.
6. Hitting, spanking and punishing your kids doesn't work very well.
Remember that saying "Spare the rod, you spoil the child". Well it turns out that there are several studies which show that children who are spanked have lower self esteem. Spanking your children will also be likely to increase the very kinds of behaviors that you are spanking them for.
As a father, do you really want your children to be afraid of you? or do you want them to come running to you whenever something happens in their life? Punishment in general is not very effective. Children who are motivated and encouraged to do the right thing rarely need "punishment" ,so try encouragement instead.
7. Actions speak louder than words.
Many parents spend time threatening their children when they're not cooperating. But if you don't follow through on the consequences, you can threaten until the cows come home.
Your children will learn to ignore the threats. They will understand action. If certain privileges are taken away because of their lack of cooperation, they will learn very quickly that you mean business.
Follow through on your word. Which inevitably mean be careful what you say to your children.
8. Really listen to your kids.
Don't just hear their words, but learn to understand the meaning behind what they say as well. Leave me alone, I'm picking up my own clothes, might mean that your child wants more responsibility or independence.
Don't take it personally, it's not about you. Be able to reflect on what your child says to you.
If you want your child to listen to you, you absolutely must listen to her/him.
9. Give your children more responsibility as they grow older.
When your children are very young maybe they just help make their beds in the morning or help with setting the table.
As they get older, add things to their list.
Tell them that this is how your family works…everybody has certain things that they do.
If you do it when they're young it's more likely they'll do it when they're older. A key point is not to reward them for things that should be expected of them.
10. Tell your children they're great…all the time.
It is especially important to tell them this when they're not at their best.
It's easy to tell them when things are going well.
Make it a point to tell them specifically what you think is great about them.
This will be more meaningful and effective for them than generalized praise.
Think about it this way – if you tell a child they are naughty, they will continue to be naughty because that's all they are hearing.
If you tell a child they are great! They will be!