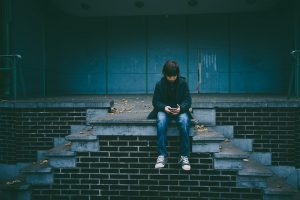 Ten-year-old Charlie has had a bad day at school. His teacher roused on him for not knowing his tables. He had tuna sandwiches for lunch and he hates tuna. He played goalie in a game after school and let in three goals. To cap it all off, he has to trudge home on a hot day with an extra-heavy schoolbag. When he gets home, he goes straight to his room, slams the door and pulls out his Playstation.
At least he won't lose playing his favourite computer game.
However familiar this scenario might be, isn't there something terribly wrong here? Childhood is supposed to be a time of joy and enthusiasm when kids discover themselves and learn how much they are capable of. Aren't kids supposed to be learning that effort is worthwhile, and that a hard job can be more satisfying than an easy job? And isn't childhood a time for socialisation, for good friendships, and for learning how to relate to others?
Unfortunately, everyday there are more and more children like Charlie who are sad, unmotivated and unenthusiastic, who say things like, Why try? What's the use? I always do it wrong! I'm tired. I don't feel like it.
Children are not born pessimistic and listless. With your help, they can become more resilient against such feelings.
Broadly speaking, there are three reasons for lack of self-esteem, low tolerance of frustration, or lack of sociability:
Medical factors
A poor diet, lack of sleep, or learning difficulties are possible causes. In some cases, there might be a slight psychological imbalance … and if you feel this might be the case, consult your paediatrician. Perhaps a simple  remedy like vitamin supplements or more regular exercise might be all that is needed.

Social factors
The culture we live in tends to value immediate satisfaction, material rewards, individualism and ceaseless competition. Even if you are not aware of these attitudes, they can affect your child. It is important for parents to realise that the ultimate goal of raising a child is not success or competence, but happiness. And true happiness doesn't depend on material things or external events, but is inside us.
Home factors
Sometimes Mum and Dad can make their children tense and moody by expecting too much from them or spending too little time with them. It's very important to enjoy family life, to have a great time, to have plenty of laughter.
How can you make sure that this happens? For starters, try to be very relaxed with your children. When you are with them, don't let half your brain calculate how many other things you have to do.
Obviously this can be very hard, especially when both parents are working, but there is a big payoff…
Try to be creative in family life, with ideas for family fun on the weekends. It's not as if you have to spend the whole day amusing the children. But they have to feel that family life is enjoyable, fun and affectionate. You can still be demanding on children.
If you are affectionate with them, it's not difficult to have discipline and order in the home.
You won't get anywhere with your children unless you know them inside out: what they like, what they are dreaming about, what their talents are, what they find difficult.
Of course, 90 per cent of this comes through intuition, just by being Mum or Dad.
But the last 10 per cent comes from spending time with them, making an effort to listen to them, reflecting on their behaviour… and making an effort yourself to improve in the same virtues of optimism, constancy and cheerfulness.
Source: Perspective Magazine ISSN 0819-6869 perspective@trump.net.au
The PARENTING TIPS PAGE is provided as a service to the Association of Heads of Independent Schools of Australia