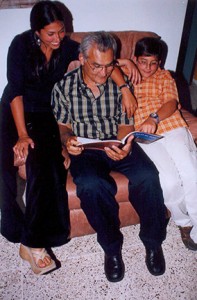 We see the reality today in our Country Trinidad and Tobago and in general, that many young people—especially in their teenage years—weaken in their faith when they are tested. The origin of these crises can vary widely: pressure from a paganized environment, friends who ridicule others' religious convictions, a teacher who imparts an atheistic viewpoint or denigrates the importance of God. But these crises become serious only if those undergoing them are unable to open up their hearts to the right people for advice.
It is important that parents foster an atmosphere of trust with their children, and always be available to devote time to them. "Children—even those who seem intractable and unresponsive—always want this closeness, this fraternity, with their parents. It is a question of trust. Parents should bring up their children in an atmosphere of friendship, never giving the impression that they do not trust them. They should give them freedom and teach them how to use it with personal responsibility. It is better for parents to let themselves 'be fooled' once in a while, because the trust that they have shown will make the children themselves feel ashamed of having abused it—they will correct themselves. On the other hand, if they have no freedom, if they see that no one trusts them, they will always be inclined to deceive their parents."[4] Nor is there any need to wait until children reach adolescence to put this advice into practice, since it is useful even for very young children.
Having conversations with one's children, besides being very enjoyable, is the best way to build a real friendship with them. When two people have a relationship of trust, a bridge is created between them that facilitates opening up one's heart and speaking about one's worries and concerns, which is also a good way to get to know oneself better. Although it's true that certain ages are more difficult than others for achieving this closeness, parents should always strive to become "their children's friends—friends with whom they will be willing to share their anxieties, who will listen to their problems, who will help them in an effective and agreeable way."[5]
In this atmosphere of friendship, children can hear about God in a pleasant and appealing way. This requires that parents make time to spend with their children, and that it be "quality" time. Children should sense that their parents have a real interest in their concerns, and are even willing to set aside their own concerns for them. Parents therefore need to be ready to turn off the television or computer—or clearly turn their attention away from it—when a son or daughter comes and wants to talk about something that is bothering them. They need to be ready to cut back in the amount of time devoted to work in order to have time to spend with the family; to look for opportunities for leisure-time activities that facilitate conversation between family members, etc.
The Mystery of Freedom
Where true freedom is found, people don't always do what's best for them, or what we would have hoped for given our efforts on their behalf. Sometimes we do things well and they still turn out badly, or at least seemingly so. When this happens, it's no use blaming ourselves, or others, for it. The best response is to gain experience so as to be able to educate ever better, and help others to do the same. There are no magic formulas here. Everyone has their own way of being, and their personal way of looking at and judging things. The same is true of children in the family who, although living in a similar environment, have quite different interests and sensitivities.
But this diversity is not an obstacle; rather it broadens educational horizons. On the one hand, it allows education to take place within a personal relationship, far from stereotypes. On the other, the diversity of children's dispositions and characters fosters a wide variety of educational formats. Therefore, although the path of faith is the most personal path possible, since it involves the deepest core of the human person and one's relationship with God, we can help each person to undertake it. If in our personal prayer we reflect carefully on each child's way of being, God will give us the light needed to act effectively.
Transmitting faith, more than a strategy or program, is the effort to help each person discover God's plan for his or her life. We want to help each one discover on their own what they need to improve in, where they need to change. For it is more than evident that by ourselves we cannot change anyone: others change because they want to.